In Pictures: Cristiano Ronaldo Rocking In The Royal Saudi Outfit (Thobe) Like A King
Cristiano Ronaldo, the renowned Portuguese football superstar, is known not only for his incredible skills on the field but also for his impeccable sense of style off the pitch. In a recent visit to Saudi Arabia, Ronaldo embraced the local culture and tradition by donning the Royal Saudi outfit, showcasing his versatility not only as a football legend but also as a fashion icon. Let's take a closer look at how Ronaldo rocked the Royal Saudi outfit and left fans in awe with his regal appearance.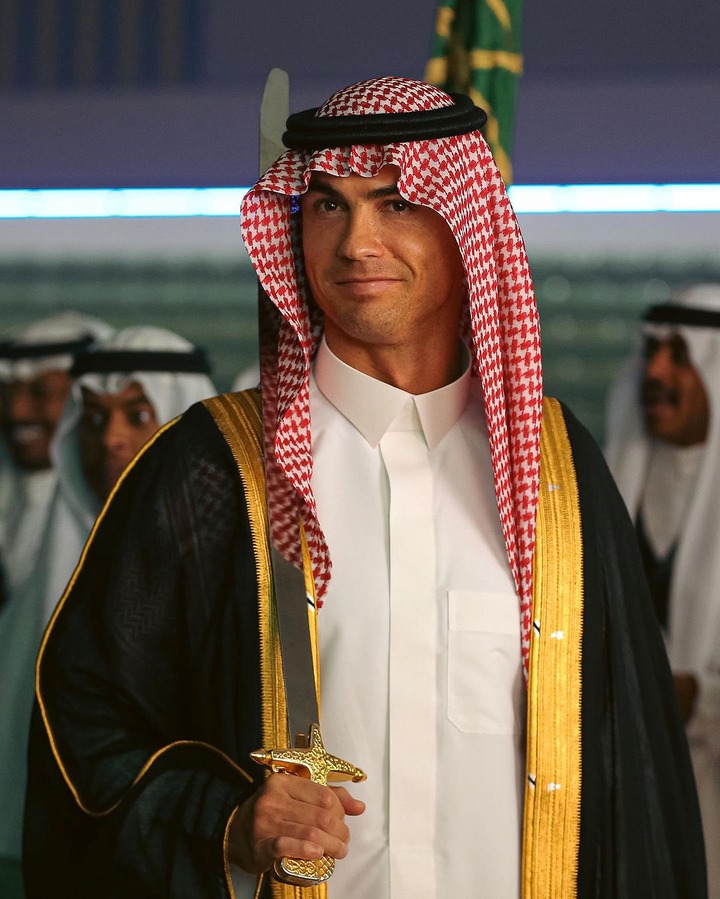 A Cultural Experience
Cristiano Ronaldo's visit to Saudi Arabia was marked by a desire to immerse himself in the rich culture and traditions of the country. As part of this cultural experience, Ronaldo was seen wearing the Royal Saudi outfit, also known as the "Thobe" or "Dishdasha." This traditional attire consists of a long robe-like garment, typically made of white fabric, and is often adorned with intricate embroidery.
In a series of pictures that quickly went viral on social media, Ronaldo's choice to embrace Saudi culture through his clothing spoke volumes about his respect for the host country and his commitment to bridging cultural gaps through his status as a global icon.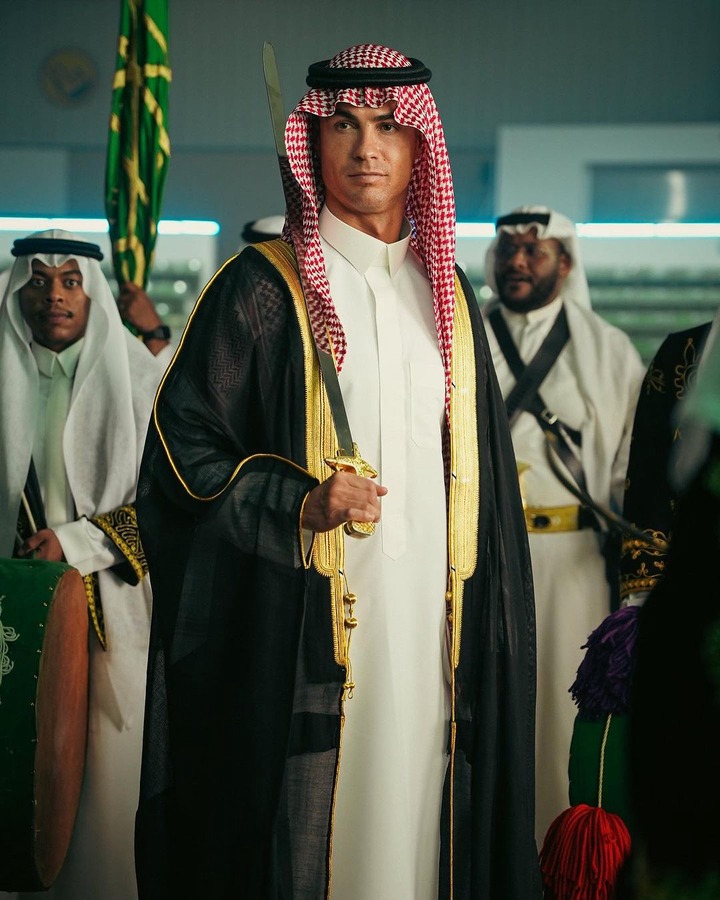 The Regal Look
Ronaldo's appearance in the Royal Saudi outfit was nothing short of regal. The pure white Thobe he wore exuded elegance and sophistication. The traditional garment featured exquisite embroidery patterns, adding a touch of luxury to the overall look.
Paired with the Thobe, Ronaldo sported a headwear known as the "Ghutrah" or "Keffiyeh," which is a customary headdress often worn by men in the Arabian Peninsula. The Ghutrah added an extra layer of authenticity to his outfit, completing the traditional Saudi look.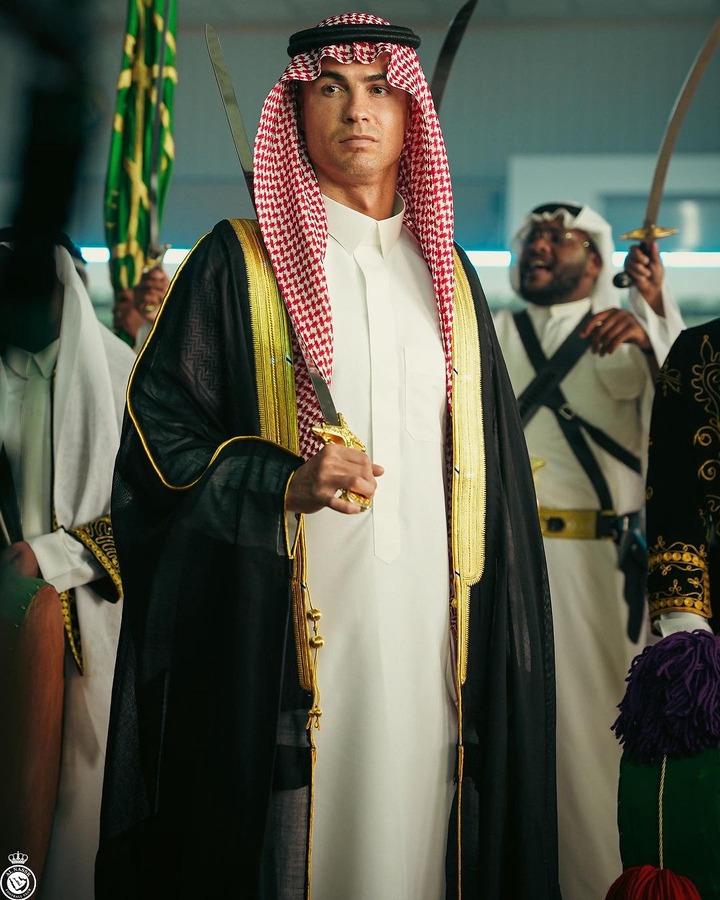 Fan Reactions
As soon as pictures of Cristiano Ronaldo in the Royal Saudi outfit emerged, fans from around the world flooded social media with admiration and praise. Many applauded Ronaldo for his cultural sensitivity and willingness to embrace the traditions of the country he was visiting. The images of him in the Thobe were shared widely, and fans were quick to commend his choice of attire.
Ronaldo's gesture was seen as a symbol of unity and respect, reminding us all that despite our cultural differences, there are universal ways to connect and show appreciation for one another's traditions.
Cristiano Ronaldo's decision to wear the Royal Saudi outfit during his visit to Saudi Arabia was a testament to his respect for the host country's culture and traditions. His regal appearance in the Thobe and Ghutrah not only showcased his versatility as a global fashion icon but also sent a powerful message of unity and cultural appreciation to fans around the world.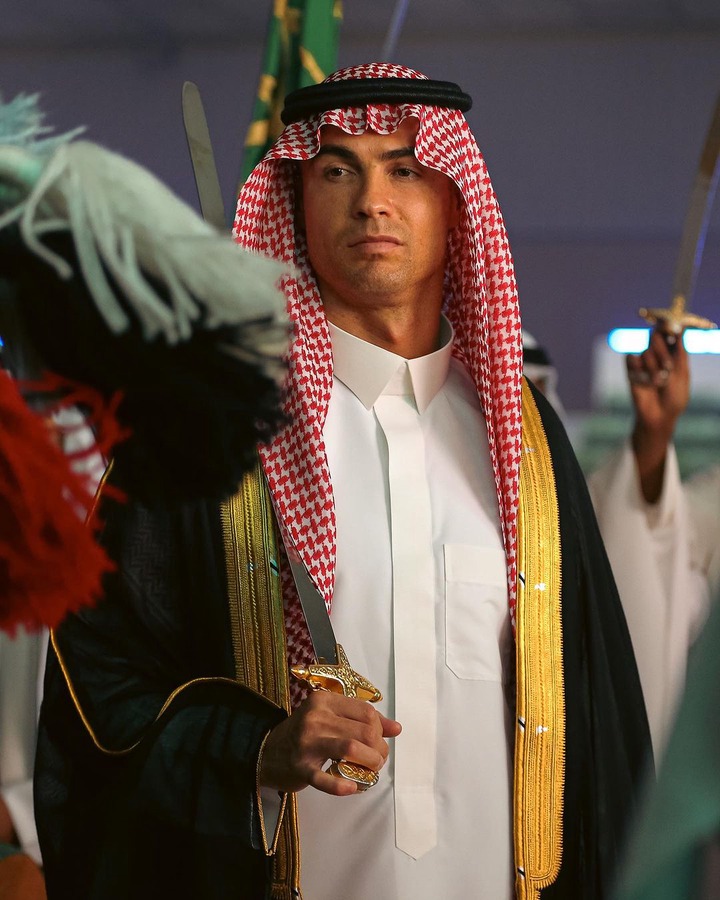 In an era where celebrities often have a global influence, Ronaldo's choice to embrace and celebrate the Royal Saudi outfit is a reminder that fashion can be a bridge that connects people from different backgrounds and cultures. Through his actions, Ronaldo has once again demonstrated that he is not only a football legend but also a global ambassador for unity and understanding.