In Pictures: Tinashe Nengomasha vs. Benjani Mwaruwari In A Club International-Friendly Match
In the world of football, memorable encounters between legendary players often become the stuff of folklore. One such remarkable face-off occurred on July 21, 2009, when former Kaizer Chiefs stalwart Tinashe Nengomasha, affectionately known as "The General," took on the former Manchester City striker Benjani Mwaruwari, aptly nicknamed "The Undertaker."
This thrilling encounter took place during an international friendly match between Kaizer Chiefs and Manchester City in Durban, and it left football fans in awe. In this article, we revisit this iconic clash through a captivating collection of pictures that showcase the intensity and skill that defined this memorable match.
Read, More: In Pictures: Former Kaizer Chiefs Star Willard Katsande Takes Relationship Goals to Another Level
The General in Command
In the first image, Tinashe Nengomasha stands tall in the Kaizer Chiefs jersey, exemplifying the leadership and tenacity that earned him the moniker "The General." With a stern expression, he sets the tone for his team, ready to face the challenge posed by the formidable Manchester City.
Benjani, The Undertaker
In stark contrast, Benjani Mwaruwari, known as "The Undertaker" for his ability to bury goals, is captured in a moment of focus and determination. His reputation as a prolific striker made him a force to be reckoned with in the footballing world.
Read, More: From Kaizer Chiefs And Becoming A Poster Boy At Dynamo Houston 
Midfield Maestro Meets Deadly Striker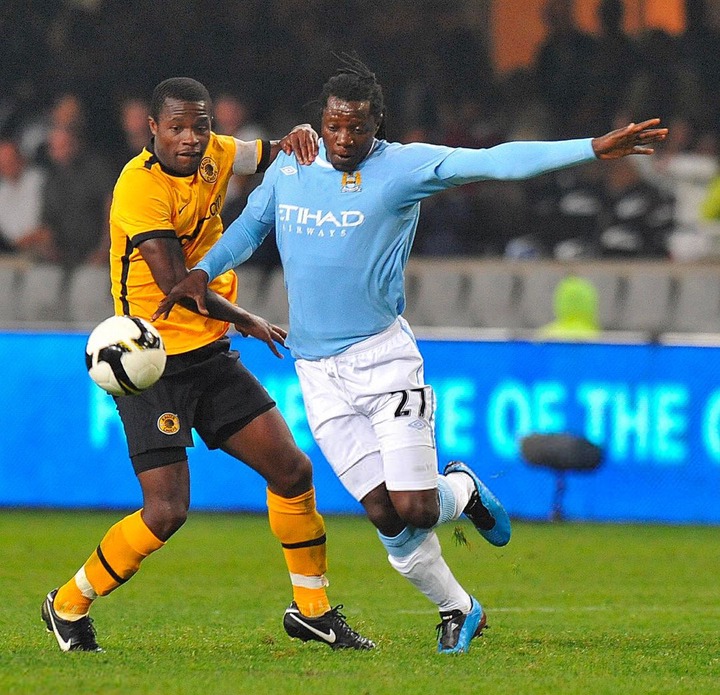 This shot encapsulates the essence of the clash, with Nengomasha and Benjani going head-to-head in the midfield. It's a battle between a midfield maestro known for his composure and a clinical striker renowned for his goal-scoring prowess.
A Crucial Challenge
Here, Nengomasha and Benjani engage in a fierce challenge for the ball. The intensity of the moment highlights the competitive spirit that both players brought to the game, leaving spectators on the edge of their seats.
Goal-Scoring Brilliance
A moment of brilliance from Benjani as he takes a shot on goal. His incredible ability to find the back of the net was a source of admiration for fans and a source of concern for defenders worldwide.
The Clash of Titans Continues
Nengomasha and Benjani remain locked in a midfield duel, showcasing their tactical awareness and skill. Their contributions were integral to their respective teams, and this image reflects the high stakes of the match.
Mutual Respect
As the final whistle blows, Nengomasha and Benjani share a moment of mutual respect and sportsmanship. Despite the intense competition, these two football icons acknowledge each other's contributions to the beautiful game.
The encounter between Tinashe Nengomasha and Benjani Mwaruwari during the international friendly between Kaizer Chiefs and Manchester City in 2009 is etched in the annals of football history. Through these captivating pictures, we relive the clash of legends, where "The General" and "The Undertaker" left an indelible mark on the pitch. Their skill, dedication, and sportsmanship continue to inspire football enthusiasts worldwide, serving as a testament to the enduring legacy of African footballing excellence.