Gerald Takwara Set To Rub Shoulders With CR7 In The Saudi Arabia King's Cup Match vs Al Nassr
Monday night will witness an electrifying showdown in the world of football as Gerald Takwara, the Zimbabwean defensive midfielder, prepares to face some of the sport's most illustrious names. Takwara, who currently plies his trade with Ohod, will lead his team into battle against Al Nassr in a highly anticipated domestic cup competition fixture.
The stage for this football extravaganza is none other than the Prince Abdullah AlFaisal Stadium in Saudi Arabia, where these two formidable teams will clash in the Saudi Arabia King's Cup round of 32. What adds to the excitement is that Takwara will be rubbing shoulders with none other than Sadio Mané, Seko Fofana, Aymeric Laporte, Marcelo Brozović, and the legendary Cristiano Ronaldo, all of whom don the Al Nassr jersey.

The prospect of facing such a stellar lineup of footballing titans is undoubtedly a self-motivating factor for Takwara. This Zimbabwean international, known for his defensive prowess, is expected to be at his absolute best, demonstrating that he too is a giant among his peers.
For Takwara, this isn't his first time on a grand stage, nor is it his first encounter with footballing luminaries. Ohod will be relying on his invaluable experience, expecting him to deliver a stellar performance at the iconic Prince Abdullah AlFaisal Stadium.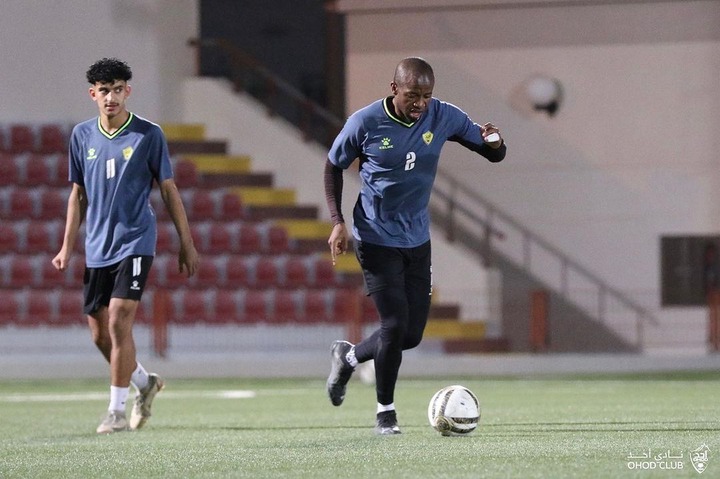 One remarkable chapter
Takwara's career that stands out is his performance during the TotalEnergies Africa Cup of Nations (AFCON) in 2021, held in Cameroon. In a thrilling showdown against Guinea, Takwara displayed his mettle by outclassing none other than Naby Keita, a former Liverpool player and captain of Guinea. The match took place at the Ahmadou Ahidjo Stadium in Yaoundé and ended with a 2-1 victory in favor of the Warriors.
In recognition of his outstanding display in that memorable encounter, the defensive midfielder was rightfully awarded the Man of the Match accolade. It was a moment that not only highlighted Takwara's individual brilliance but also showcased his ability to perform under immense pressure and against world-class opponents.
As the date of the Ohod vs. Al Nassr clash draws near, football fans and enthusiasts around the world will undoubtedly keep a keen eye on Gerald Takwara. The anticipation is palpable, as we eagerly await to witness whether he can once again rise to the occasion and prove that he belongs in the elite echelons of football talent.
For Takwara, this match isn't just another fixture; it's an opportunity to make a statement, to show that he can hold his own against the likes of Cristiano Ronaldo and other footballing icons. His journey from FC Platinum, Ngezi Platinum Stars, and Venda Academy to the international stage has been a testament to his dedication and skill.
In the Prince Abdullah AlFaisal Stadium, under the floodlights, amidst roaring crowds, and facing footballing giants, Gerald Takwara has a chance to etch his name further into the annals of football history. Whether he can seize this opportunity and shine on this grand stage remains to be seen, but one thing is certain: the world will be watching with bated breath as this Zimbabwean midfielder takes on the giants of the sport.